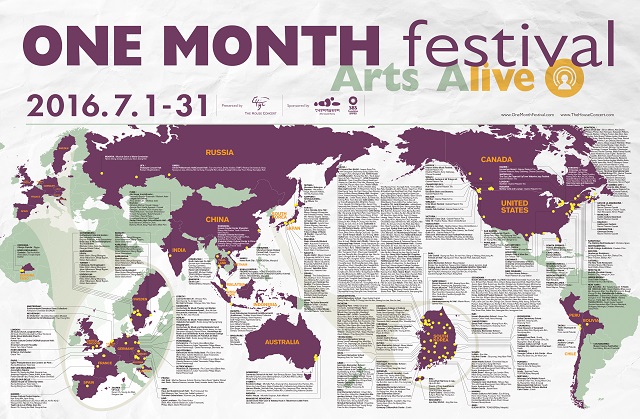 '원먼스 페스티벌'은 말 그대로 한 달 동안, 전 세계 여러 국가에서 공연이 개최되는 프로젝트 입니다. 2016년에는
세계 28개국 142개 도시에서 425개의 공연
과 함께 합니다.
7월 1일부터 31일까지 한 달 간 매일 공연이 열리게 되는 본 페스티벌은 하루가 아닌 한 달, 한 달이 아닌 매일의 일상에서 만날 수 있는 지속적인 문화적 환경을 만들자는 취지로 이루어지며, 다양한 장르와 성격의 공연들이 공존하게 됩니다. 공연장은 물론 하우스콘서트와 같은 작은 살롱 음악회 공간을 포함해 학교, 박물관, 카페, 공원과 같은 일상의 소소한 공간에서도 공연이 펼쳐지며, 클래식, 재즈, 국악, 실험음악, 퍼포먼스, 비보이 등 다양한 장르를 아우릅니다.
또한 진행방식에 있어서도 매우 다양한 모습을 가지고 있습니다. 모든 공연들은 개최되는 각 나라와 장소, 장르와 연주자, 관객과 분위기에 따라 각자의 방식으로 진행되면서 페스티벌 속에 공존하게 됩니다. 공간과 장르, 프로와 아마추어, 나라와 이념 등 그 어떤 것에도 경계가 없이 다양성을 가지고 있다는 것이 '원먼스 페스티벌'의 특징입니다.
가장 중요한 것은, '일상에 살아 있는 예술'(Arts alive)을 한 달 단위로 선보임으로써 문화적 토양을 더욱 비옥하게 만들자는 일종의 문화운동의 성격을 가지고 있다는 점입니다. 우리의 땅을 비옥하게 만들기 위해 누군가가 가꿔주길 기다리는 것이 아닌, 스스로 씨앗을 뿌리고 일구자는 의미의 본 프로젝트에는 세계 각국에서 같은 신념을 가진 수많은 국적의 아티스트와 기획자들이 동참함으로써 완성되었습니다.
'원먼스 페스티벌'은 지난 2015년 처음으로 개최, 새로운 방식의 공연을 제시하며 관심을 모았습니다. 올 해 역시 다양한 공연의 연합을 통해 작은 개개인이 하나로 모이면 상상을 초월하는 큰 힘이 된다는 것을 확인하고자 합니다.
'One Month Festival', as the name suggests, is a project that will host concerts from different parts of the world throughout an entire month. In 2016, it will host a total of 425 concerts from 142 different cities in 28 countries.
The festival, which will host concerts everyday for a month from July 1st to July 31st, was organized under the purpose of creating a cultural environment where art can be enjoyed not for just a day but a month, and not just for a month, but for everyday, with concerts of diverse genres and characteristics. Concerts will be held not only in concert venues, but in various locations such as small salons where house concerts are held, as well as any locations in our daily lives including schools, museums, cafes, parks, etc, and will feature numerous genres of art ranging from classical music to jazz, Korean traditional music, experimental music, performing arts, b-boy, and more.
Also, the concert methods will vary greatly this year. Every concert that cohabits within the festival will be run in their own creative ways, depending on the country, location, genre, artists, audience, and ambience of each concert. The characteristic of 'One Month Festival' that stands out among others, is maintaining the diversity and not having any restrictions from location, genre, professional or amateur, nationality, and ideology.
The most important thing to remember is that this is a cultural movement to cultivate a cultural soil by 'keeping arts alive in daily life' for a month. The project was made possible when artists and promoters of many different nationalities participated by honoring the significance of the project, that in order to cultivate our cultural base, we have to sow the seeds ourselves instead of waiting for someone to do it.
'One Month Festival' first began last year in 2015, when it gained a lot of attention for proposing a new convention for concerts. This year, under the alliance of various types of concerts, it will reaffirm the spirit that every small individual's will, when accumulated, can make an extraordinary impact in our goal.